All testimonials are direct from residents, their families, staff and management, via the manager at each venue and are displayed with their permission.
Towards the bottom of the page are some previous client reviews.
And here are are some recent reviews:
'Absolutely brilliant, especially interaction and inclusion of the whole audience. Everyone loved Scott and can't wait for him to come back' - Elaine, activities coordinator, Woodland Grove, Laughton , 17-09-2017
'The best entertainer we've had' - Agnes, activities coordinator, Pentlow Nursing home, Eastbourne, 24-08-2017
'A huge thank-you for today, our residents enjoyed themselves immensely. Scott is so good with our ladies and understands them so well' - Pip Kerswill, activities coordinator, the Vale, Bearstead, 06-10-2017
'Scott visits Hatfield once a month and makes our ladies and gents smile every time. He is now part of our Hatfield family and we recommend him to everyone. Your residents will be smiling and have lots of fun and laughter when you book him' - Diane Collins, Manager, Hatfield Lodge, Folkestone, 28-09-2017
'Absolutely amazing singer with great voice. Interacts very well and includes everybody, residents and staff ' - Julie Williams, Manager, Tudor Lodge, Folkestone, 21-09-2017
'Scott is fantastic with our elderly clients, it is so nice to see an entertainer interacting with them, encouraging them to sing a long, giving them a great feeling of inclusion.Our clients enjoy the entertainment so much, Scott visits every month. Would definitely recommend to others' - Debbie Smith, manager, Ivybank, Dover 20-09-2017
Photos below taken at Kingsfield Care Home, Faversham, Kent 21/06/2014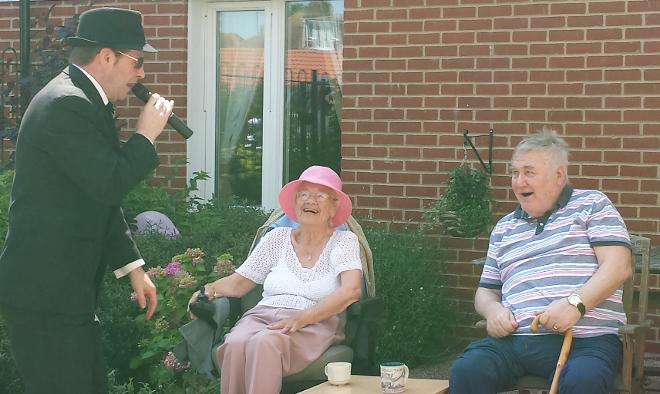 LITTLEBOURNE HOUSE, LITTLEBOURNE, CANTERBURY
(The Las Vegas Rat Pack)
"The entertainment was brilliant, Good interaction"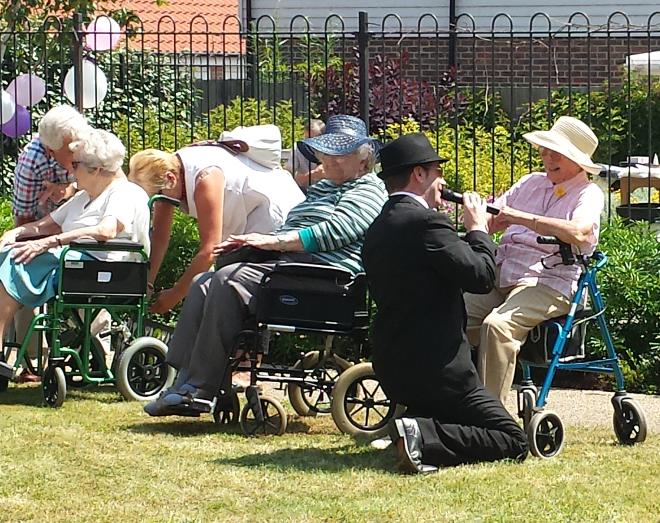 COLE COURT, HAROLD HILL
(Songs from the shows)
"Absolutely brilliant, AND different, everybody enjoyed it. Great interaction"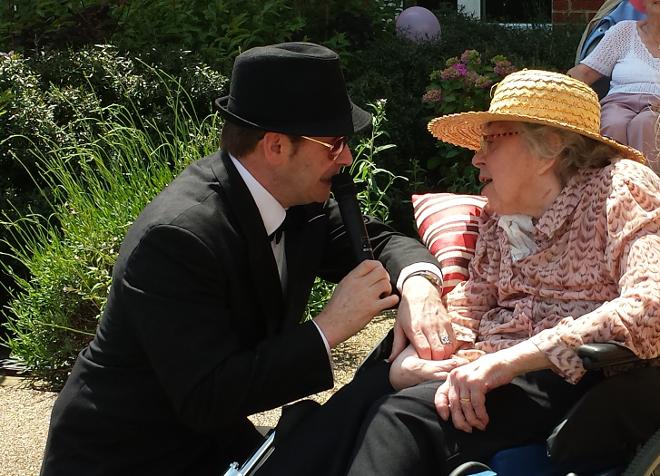 'YORK LODGE, CROWBOROUGH
(Songs from the shows)
''Brilliant performance, enjoyed by residents, carers and relatives. Fantastic interaction"
WRVS Hawkhurst, Kent
(Songs from the shows with a touch of Christmas)
"Many thanks for providing us such a fantastic afternoon, it was thoroughly enjoyed by all. Ladies who don't usually say much came up to me and said they'd not seen such wonderful entertainment, it was lovely to see smiles all round"

Margaret Taylor - WRVS Hawkhurst Friendship Club
We offer a first class service and competitive rates
So, contact us today to book your show