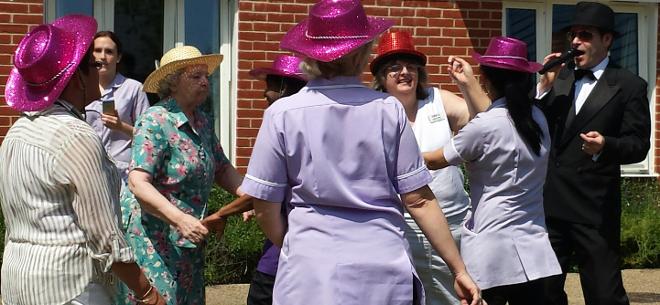 Shows for Community Centres, Sheltered Housing, Residential and Care Homes
Music is a great medium for bringing people together, creating positive atmospheres and for enhancing memories. Most people remember where they were, who they with and what events may have occurred in their life when they hear a familiar song play.
There is also a great deal of media attention about how music can often have a dramatic effect in the care and support of people with dementia. Below is an excerpt from a recent report:
'Whether it's 60's soul, operatic arias or songs from the shows, music can soothe, stimulate and bring to mind long-forgotten memories.The power of music, especially singing, to unlock memories and kickstart the grey matter is an increasingly key feature of dementia care. It seems to reach parts of the damaged brain in ways other forms of communication cannot.'
Our shows designed for residential and care homes run for approximately 50 - 60 minutes. If the audience is fully involved and active we will keep the music going to maintain the atmosphere, whereas, some audiences may prefer to be entertained with more banter and dialogue.
Each audience is gauged on the day and the show presented according.
We actively encourage carers and family members to attend the shows to further enhance the enjoyment for all concerned.
We have friends and relatives in homes and warden assistant accommodation and have personal experience of dealing with some of the illnesses that can appear in later life.
We have seen firsthand how entertainment can stimulate memories from youth and early adulthood and take people on a journey back in time.
Our shows are designed not only to achieve this but to also involve our audiences as much as we possibly can to make their enjoyment a fulfilling experience.
We offer a first class service and competitive rates
So, contact us today to book your show
Pictured below is Nanny Ethel enjoying the Christmas Party at her care home, Mont Calm in Folkestone with grandson Scott, Recollections star performer.